Miami Marriott Biscanye Bay
My cruise on the Liberty of the Seas part 1
My cruise on the Liberty of the Seas part 2
Having stayed at the Marriott Biscayne Bay for a couple of days, it was time to go to our Royal Caribbean cruise. I've never been on a real cruise – I've only been on the three day one that leaves from California.
Approaching the dock, I was stunned at just how humongous the Liberty of the Seas boat was. It was simply massive. We had filled out our information online ahead of time and had received our baggage tags in advance which really helped to speed up the check in process.
We were on the 9th deck of the boat in a Deluxe Ocean View Stateroom. When we walked in, I was surprised at actually how large the room was.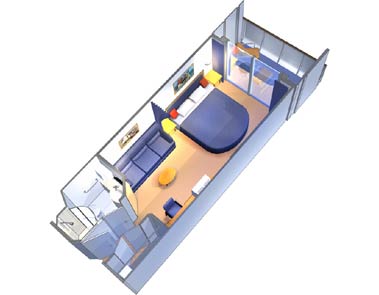 The bed was very comfortable and I loved having a balcony that you could walk out on. If you traveling with friends, your balcony can open up to the room next to yours.
Meals
Part of the lure for many people on the cruise is the food and frankly the abundance of it.
We always ate breakfast in the buffet style restaurant Windjammer.. There was also an option to eat at the sit down dining hall, but we were always ready to either do activities or go to the ports of call.
There was plenty of variety including international fare such as Asian style, fresh fruits, baked goods, waffle station, scrambled eggs, and the normal American breakfast. One of the downsides was that it generally was very crowded and sometimes finding a seat was problematic. We did enjoy the flexibility of walking in when we wanted to and the food was pretty decent.
Lunch was buffet style as well and they even had a buffet set up by the pool. The lunch had hamburgers, wok stir fry, and about fifteen other varieties of entrees. There was always plenty of fresh fruit and an entire dessert bar.
There were two dinner seatings each night, one at 6 PM and one at 8:30 PM. We were assigned to the 6 PM slot which worked out well for us. Dinner was ordered off a menu and they did a good job of rotating the entrees each day. You could order as many appetizers, entrees, and desserts of the menu as you liked which I never actually did.
There is an option (at an extra cost) to order steak from the steakhouse. My wife ordered Filet Mignon one night for a change and really enjoyed it.
There is also another option for dining that costs $4.90 per person at Johnny Rocket's, a 50s style diner. After several consecutive nights at the dining hall, we welcomed a break for some old fashioned diner food. The entire menu was included in the $4.90 cover charge and you could order as much as you wanted. I had the old fashioned hamburger, a Nathan's chili dog, french fries / onion rings and a milkshake. The milkshake and any drinks were extra. They had a full dessert menu as well including apple pie and sundae's.
There was also an option to eat down on the Promenade which has a few shops and a couple of them open 24 hours. They have a Ben & Jerry's shop for a nominal charge and a cupcake shop as well.
Ports of Call
There were three ports of call on our cruise: Nassau, Bahamas; Ocho Rios, Jamaca; and Labadee, Haiti.
Nassau, Bahamas
Having been in Nassau this past October, we knew that we wanted to go to the Atlantis Resort and skip downtown Bahamas.
You can buy a day pass to Atlantis Resort and after having read on a few cruise boards, they recommended that you purchase your tickets ahead of time through Majestic Tours. The cost was $120 per ticket. The cruise will offer day passes including transportation for $160.
Majestic Tours will leave your tickets at a will call at the Atlantis Resort. We stepped off the cruise ship and grabbed a taxi – the cost was only $7 per person each way so we saved $26 each.
What can you say about the Atlantis Resort except that it is one of the funnest water parks I have been too. From the "lazy" river with serious rapids to the water rides – there was plenty to do and our time ran out quickly.
Ocho Rios, Jamaica
In Jamaica we decided that we wanted to climb Dunn River Falls. We brought water shoes with us – which is required and you can either rent them their for $7 or purchase a pair for $14. Save your money and bring your own with you.
The cruise once again offered all kinds of package deals for Dunn River Falls – we opted once again to just get off the ship and take a taxi there that cost $10 a person. Entry into Dunn River Falls was $15. They have lockers there that you can rent for $3 to store your stuff. You can also (at a cost) hire your own river guide to help you up the river. You may wonder why in the world you would need a guide to go up a river but there are parts where it is seriously treacherous. We just followed another river guide up the river when we got into tough spots. Going from the bottom of the river to the very top took about an hour and we throughly enjoyed the experience.
We took a taxi back to the area where you board the cruise ship and decided to find some good jerk chicken. There were plenty of shops right near the cruise but we decided to just venture out. Within walking distance we found the Jerk Centre and I'm glad that we decided to walk around because it was some of the best jerk chicken and pork I've ever had.
There was plenty of seating and a great atmosphere – I would recommend going here.
Labadee, Haiti
While technically a part of Haiti – it is for all intents and purposes a deserted island that has been built into a small city by Royal Caribbean.
There are miles and miles of beach – we found the best beach spot was by the zip line on the mountain, by the volleyball courts also near where the cruise serves a free lunch.
You can rent a beach chair with umbrella for a couple of bucks – it made for a very relaxing stay.
We passed on all the excursions at Labadee – just seemed to be too expensive for my blood.
I will write more about the actual cruise ship in my next post.